The Cheering Section: Masons and Baseball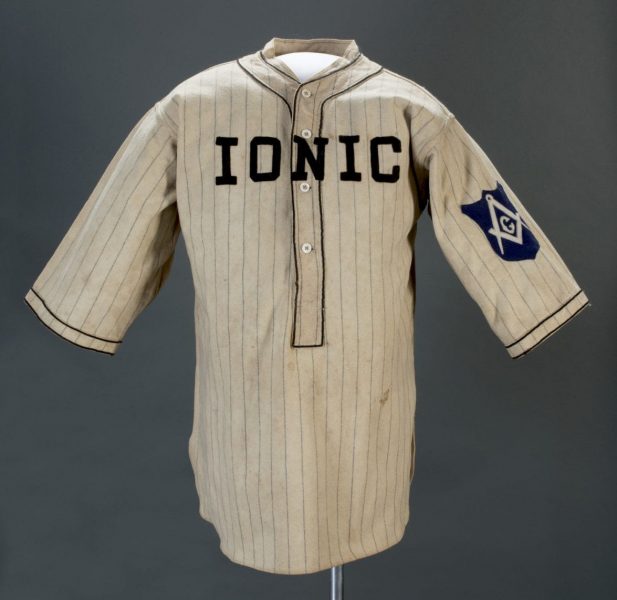 As we head toward the baseball's stretch drive, it seems as good a time as any to reflect on Freemasonry's long history with the national pastime. Many readers are no doubt aware that Hall of Famers including Rogers Hornsby, Cy Young, Ty Cobb, and Honus Wagner were active Masons, but that may in fact be just the tip of the iceberg. Turns out, during the early 20th century Masonic baseball teams and even leagues were fairly common all across the country. Check out the blog post below from the Scottish Rite Museum's (and California Freemason magazine contributor) Aimee Newell for more on what one unusual old uniform tells us about the fraternity's connection to the game.
(And speaking of the old ballgame, don't forget that Masons4Mitts glove drive is entering its stretch drive, so help a young player learn the game by donating a mitt.
This article was originally published at the Scottish Rite Masonic Museum & Library's blog (http://nationalheritagemuseum.typepad.com). The Scottish Rite Masonic Museum & Library in Lexington, Massachusetts is an American history museum founded and supported by Scottish Rite Freemasons in the Northern Masonic Jurisdiction.
Play Ball! A Masonic Baseball Jersey
With calls of "play ball" starting the 2023 baseball season this coming Sunday, it seemed right to focus our blog post this week on a Masonic baseball jersey that we recently added to the Scottish Rite Masonic Museum & Library collection. The short-sleeved shirt is off-white with dark pinstripes and bears the team name across the chest, "Ionic."  What made this an exciting find for us is the blue patch on one sleeve with a square and compasses symbol and a G in the center.  This jersey seems to have been worn by a member of a team in a Masonic baseball league during the late 1910s or early 1920s.
"A Masonic baseball league?" you might ask, "how many of those could there have been?" Turns out, there were several, so we don't know where this shirt was originally worn.  Initially, we thought that the jersey might have been used by the Ionic team that played in Detroit during the 1910s and 1920s.  Newspaper accounts from 1917 through 1921 trace the league's games and frequently reference the Ionic team, who were the 1918 champions.  But we haven't been able to conclusively link this shirt to the Detroit league yet.  There was also a league active in western New York during the 1930s, although we do not have a complete list of team names.  And, Duluth, Minnesota, Freemasons organized an "indoor baseball league" in 1914, which was active into the 1920s.  Newspaper articles confirm that this league had an Ionic Lodge team, but a March 1922 article about their playoff contest refers to them as "the Red and Gray squad," suggesting their team colors do not match this jersey.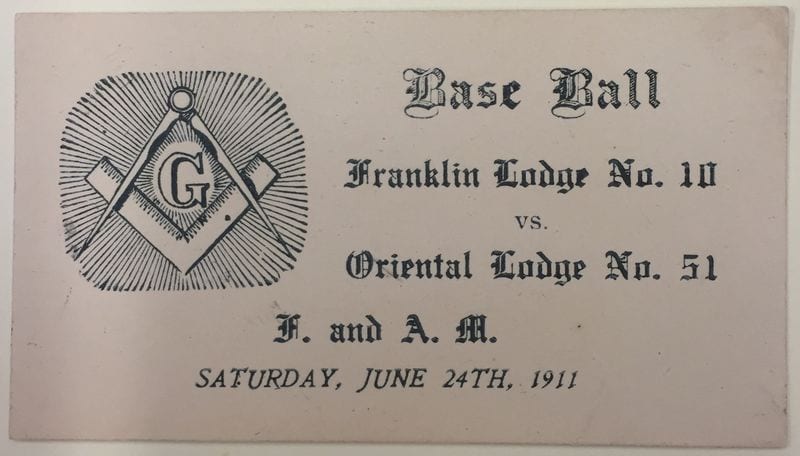 Other items in our collection also tell us that "Masonic" baseball games took place in New Jersey. This ticket (above), from our Archives, admitted the bearer to a game on June 24, 1911, between Irvington's Franklin Lodge No. 10 and Newark's Oriental Lodge No. 51.  And, a photo in our collection (below) from October 1935 documents an "All-Star Masonic Game" that was played in Trenton between National League and American League players.  The teams were made up of professional baseball players who were also Freemasons.  It seems to have been a fundraising event put on by Trenton's Tall Cedars of Lebanon Forest No. 4.
Our Ionic shirt has a label stitched inside telling us that it was made by Thomas E. Wilson and Company in Chicago. However, a few years before this shirt was made, in 1909 and 1910, consecutive Grand Masters of Illinois ruled that a group of baseball clubs with all-Masonic players "cannot use the name "Masonic Baseball League" or any other name in which Mason or Masonic appears" in the jurisdiction.  While creating the league and playing the games was not banned, it was felt that "it would not do for lodges to vote funds for the entertainment and amusement of a few members, who desire to engage in something foreign to Masonry."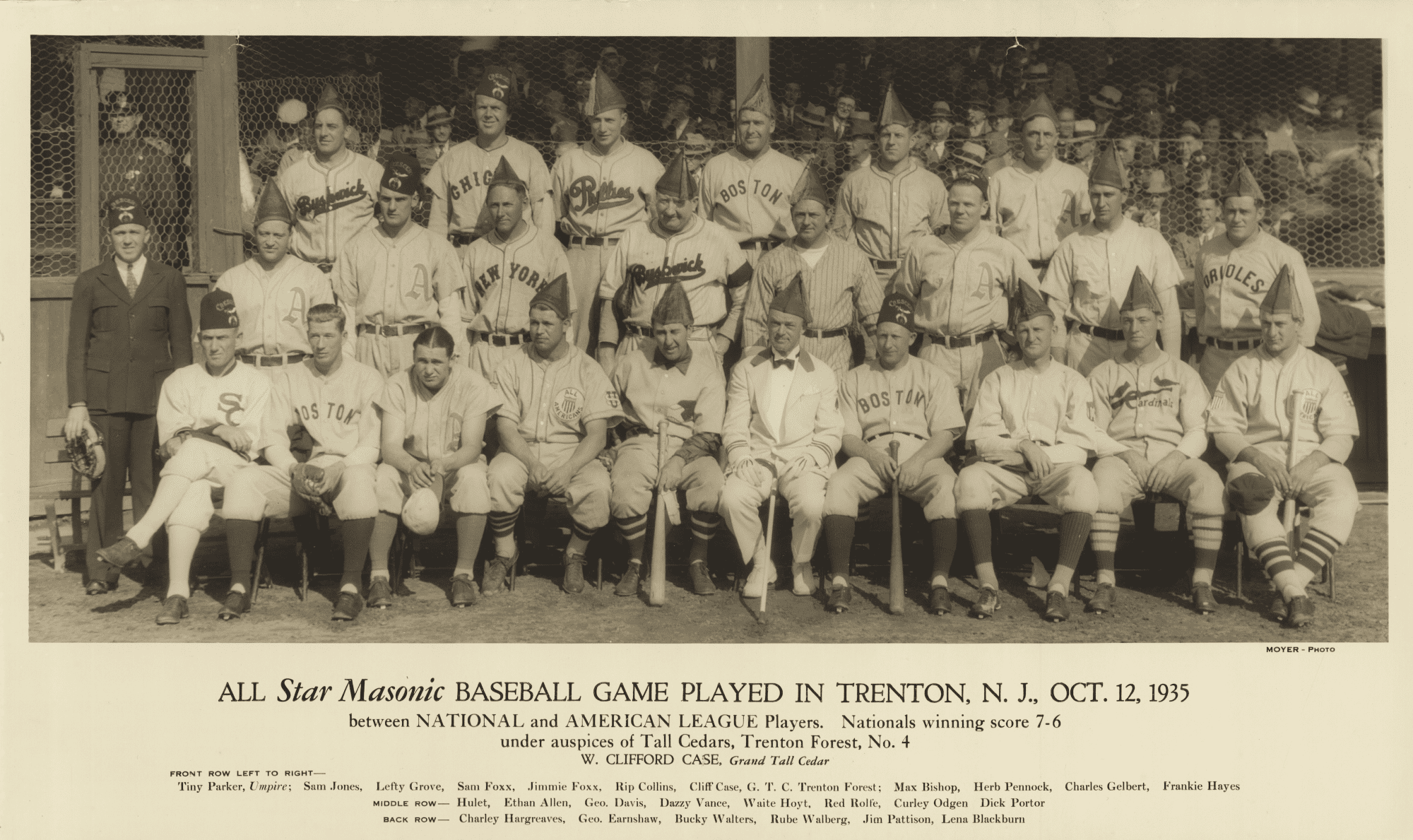 Histories of Thomas E. Wilson and Company (known today as Wilson Sporting Goods Company) help us to date this jersey between 1916 and 1925, when it was using the particular label in this shirt, and the Thomas E. Wilson and Company name. Thomas E. Wilson (1868-1958), who was born in Canada and came to Chicago in 1877, joined that city's Mizpah Lodge No. 768 in 1894.  Do you have any documents or objects associated with a Masonic baseball league?  Do you know where this jersey might have been used?  Leave us a comment below!
Masonic Ionic Baseball Jersey, 1916-1925, Thomas E. Wilson and Company, Chicago, Scottish Rite Masonic Museum & Library purchase, 2015.055. Photograph by David Bohl.
Ticket, 1911, unidentified maker, New Jersey, gift of Grant Romer, A87/010/1.
All-Star Masonic Baseball Game. 1935, Moyer, Trenton, New Jersey, gift of Donald Randall, 90.42.