Diveristy in Friendship
by
Antone R.E. Pierucci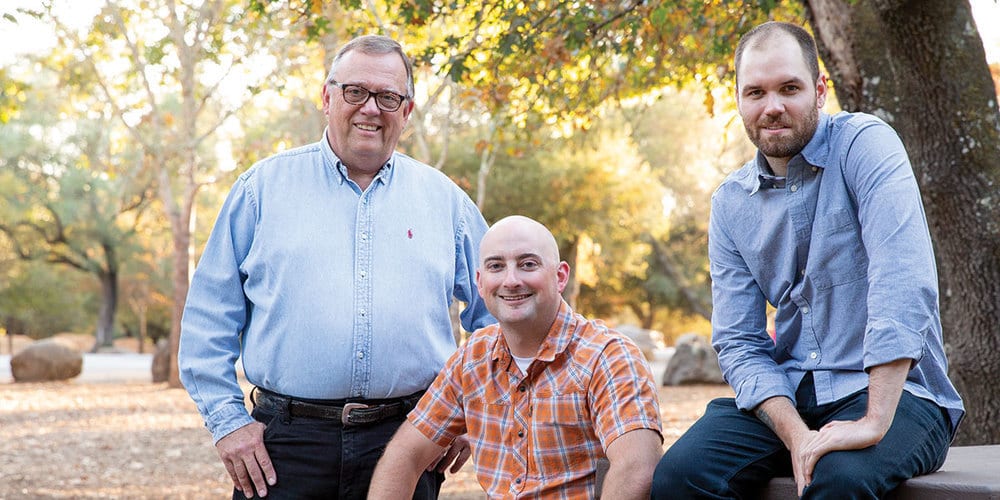 TOP IMAGE:  A 1913 banquet at King David's Lodge No. 209 honoring a visit from Grand Lodge officers.

KING DAVID'S No. 209 CELEBRATES
150 YEARS OF SHAPING THE CENTRAL COAST.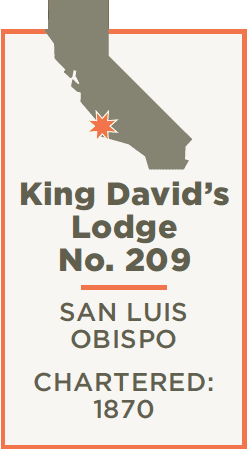 As unlikely origin stories go, it's hard to top King David's No. 209. In 1870, the idea to start a new Masonic lodge in San Luis Obispo formed during, of all things, a funeral. The service was for Alexander Murray, a notable figure whose death at 36 brought Masons from his two lodges, in Santa Barbara and San Simeon, together in mourning. This September, King David's celebrated its sesquicentennial—and all the history and service born from that initial spark.
This year's celebration would have been unthinkable for those early California Masons—at least in form, as it took place over Facebook Live. But the spirit of camaraderie and civic engagement would surely have felt familiar even 150 years later. Here, with help from past master and lodge history expert Peter Champion, we take a look back at the important moments that established King David's Lodge as such an important institution on the Central Coast.
Brick by Brick
A Lodge History
1860
On September 26, Grand Master N. Greene Curtis grants a dispensation to San Luis Obispo No. 148, the first Masonic lodge in the county. Dr. Joseph M. Havens, a county judge, is elected lodge master.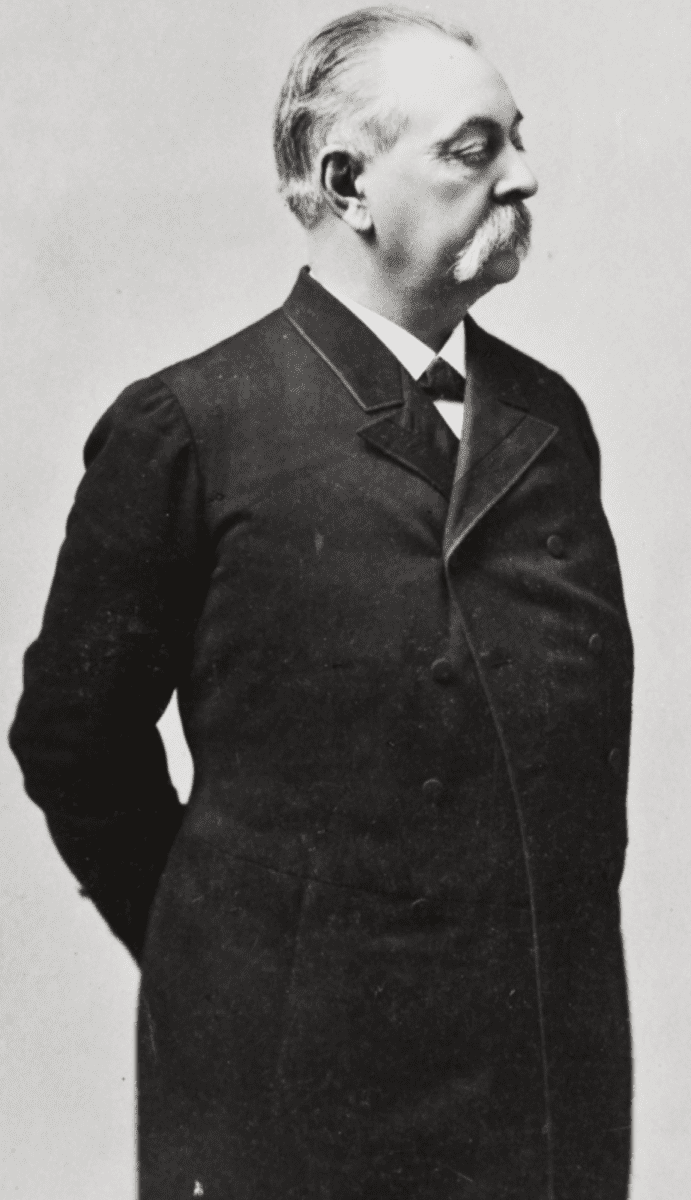 ~1863
Jose Antonio Romualdo Pacheco Jr. receives the third degree at San Luis Obispo No. 148, making him the only person raised in the five-year history of the lodge—and only the second Mexican American raised a Master Mason in California.
1865
As the Civil War and droughts of 1862–65 halve the county population, the lodge elects to surrender its charter. Havens later becomes U.S. vice consul to Peru.
1870
In May, Alexander Murray, brother of past lodge master Walter Murray, dies. At his funeral, a group of Masons pledge to petition for a new dispensation in San Luis Obispo. On June 24, the new King David's Lodge holds its first meeting. Levi Rackliffe is elected master. A charter is issued October 14, 1870
1874
Construction is complete on King David's first lodge hall, on Higuera Street, at a cost of $3,511.
1875
Pacheco is elected governor, making him the first—and, to this day, the only—Hispanic governor in state history. In 1877, he'll become the first Hispanic member of Congress.
1894
Construction is finished on a new Masonic temple, on Chorro and Marsh streets. The first degree there is conferred to Louis Felix Sinsheimer, later to become the city's longest-serving mayor and its first Jewish mayor.
1903
Members of King David's lay the cornerstone at the new California Polytechnical University. Lodge member Myron Angel is one of the school's greatest early boosters.
1904
Following the death of his wife and infant son, past master Frederick Adolphus Dorn constructs a 27-foot tall pyramid mausoleum. The final ashlars are ordered to be placed following Dorn's death, closing the pyramid for all time. However, three years later he remarries, moves to the Bay Area, and is ultimately buried there. The unfinished pyramid becomes a local icon.
1913
On March 14, Masons lay the cornerstone of a new four-story temple on March Street (as seen above and at right). The building is designed by noted Masonic architect John Davis Hatch.
1921
On September 3, past master John Whicher gives the nation's first radio broadcast of a lecture on Freemasonry live from San Francisco. 1923 In September, 14 naval destroyers run aground at Honda Point, the largest naval disaster in U.S. history. Mayor Sinsheimer orders trains and taxis to collect supplies and deliver them to the scene.
1940s

During World War II, the lodge is flooded with requests for degrees in advance of soldiers's deployments. All told, 55 courtesy third degrees are conferred during the war.
1971
As the 1913 temple begins to show its age, a bitter feud rages over whether to sell the property and construct a new hall or refurbish the existing temple.
1973
King David's confers the second degree on Yong Y. Louis of Taiwan's Liberty Lodge No. 7. It's one of only two degrees conferred by the lodge at the request of a grand lodge outside the United States.
After a protracted battle over the Marsh Street temple, the lodge decides to renovate, with architect Jonathan Lindenthaler leading the project.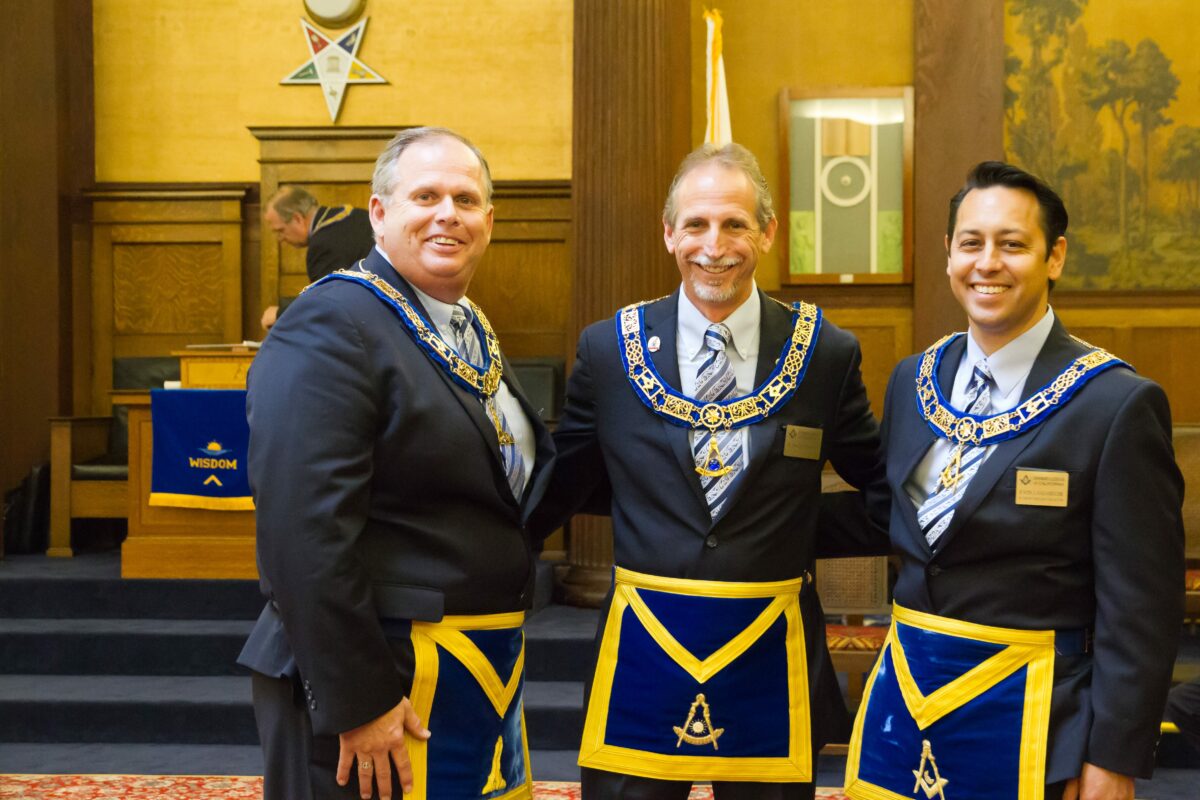 2005
On January 1, Estero Lodge No. 719 in Morro Bay is consolidated into King David's. Proceeds from the sale of the Morro Bay hall are used to establish a perpetual scholarship fund for students in San Luis Obispo and Morro Bay.
2010
The lodge begins a second renovation, including restoration of the doorway and façade to the style of the 1913 original. 2013 On October 20, the lodge celebrates the 100th anniversary of the 1913 Marsh Street temple's opening.
2013
On October 20, the lodge celebrates the 100th anniversary of the 1913 Marsh Street temple's opening.













Lodge members mortar the final ashlars into place on Dorn's Pyramid.













Lodge members mortar the final ashlars into place on Dorn's Pyramid.













Lodge members mortar the final ashlars into place on Dorn's Pyramid.













Lodge members mortar the final ashlars into place on Dorn's Pyramid.
2018
On June 22, with descendants of the Dorn family in attendance, lodge members mortar the final stones in place to seal Dorn's Pyramid. The lodge's efforts are recognized with a historical preservation award.
2020
On September 20, the lodge celebrates its sesquicentennial. Mayor Heidi Harmon and others point specifically to its history of charity— which today amounts to annual donations of $30,000 in scholarships to local students and $50,000 to local schools and nonprofits.
PHOTO CREDIT:
Peter Champion
University Archives Photograph Collection, Special Collections and Archives
California Polytechnic State University
Alamy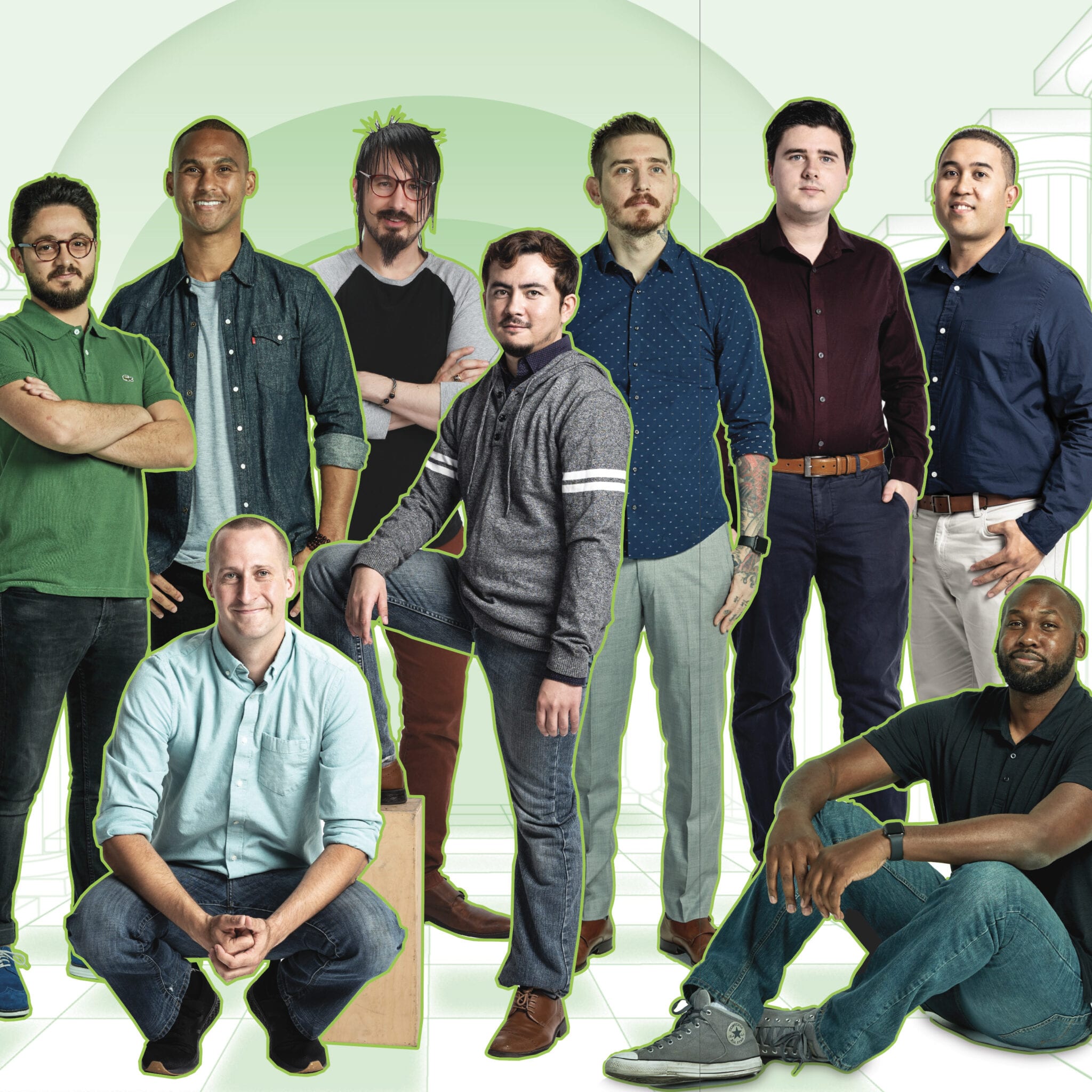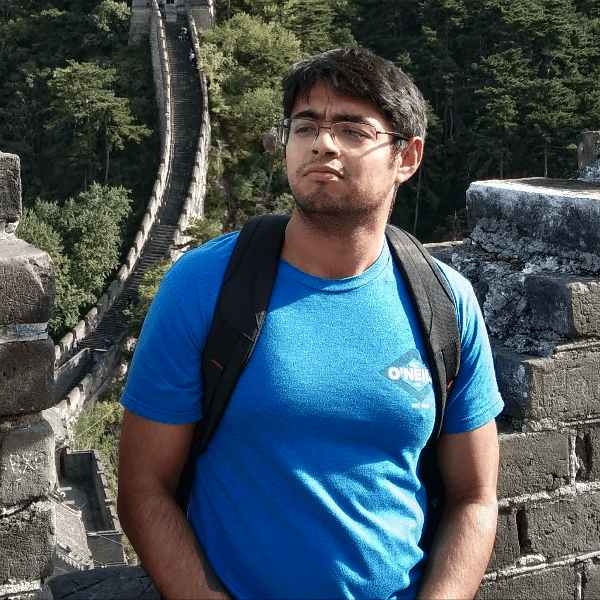 Meet a San Diego Freemason staying in touch from a world away.
Read More